There have been several fire safety prosecutions over the past couple of week, that have jumped out as more significant than others.  This is due to the guilty party receiving a custodial sentence or the sheer financial punishment received:
[tabs tab1="£12 000 Fire Safety Prosecution in Morcome" tab2="Wolverhampton Pub Owner Jailed" tab3="Largest Ever Fire Safety Prosecution" type="horizontal vertical"][tab]On 10th November 2014 Mr Eli Zohar pleaded guilty to two offences under the Regulatory Reform (Fire Safety) Order 2005 following inspection of 38 Westminster Road, Morecambe by Lancashire Fire and Rescue Service. Officers had visited the premises on 7th June 2013 and issued an Enforcement Notice on 10th June 2013...cont [/tab][tab]
A businessman who put lives at risk at his Black Country pub by blocking the fire exits with boxes and failing to install alarms and smoke detectors has been jailed for eight months.

West Midlands Fire Service said Daljit Singh blatantly disregarded its safety advice on numerous occasions.
Singh owned the Hop Pole Inn in Oxley Manor Road, Wolverhampton, and was regularly visited by fire inspectors over a two-year period.
But he repeatedly failed to remedy the safety breaches, despite a total of seven visits from fire safety officers, Wolverhampton Crown Court was told...cont
[/tab][tab]
A former hotelier who owned a hotel in Bayswater, London, has been given the "biggest ever" fine for an individual for violating fire safety rules, according to London Fire Brigade.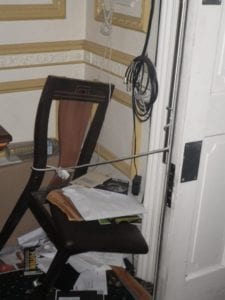 Guests' lives were put at risk according to London fire brigade when a routine inspection at the Radnor Hotel found numerous fire safety breaches including missing fire doors, inadequate fire detection systems, inadequate emergency lighting, no fire risk assessment and evidence the basement storeroom was being used for sleeping...cont
[/tab][/tabs]
Avoid prosecution, be safe, call Fire Safety Specialists on 01246 434314.